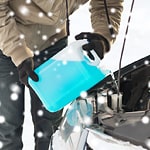 Before cold weather arrives, make sure all of the fluids in your car are changed or topped off. Consider keeping the gas in your car at a higher level in the winter in the event that you are stranded on the road in Mineola during a snowstorm or another weather-related event. Fluids that you want to change or fill include your oil, coolant, and washer fluid.
If you know that your area sees a good bit of snow and ice, then consider getting all-weather or winter tires. These often have a deeper tread on them, making it easier to navigate through snow and ice. Winter tires are also a bit more receptive to lower temperatures, providing more flexibility when you're on the road.
Consider making a kit to keep in your car that has a flashlight, blanket, and other items that would be beneficial if you encounter winter weather or an accident on the road. You could also keep de-icer, jumper cables, and a first-aid kit in your car so that you can handle variety of issues that might come your way.