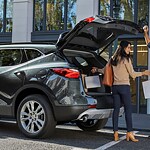 The Chevrolet Blazer features top technology features for drivers that want an SUV that keeps them connected! At Dow Autoplex in Mineola, TX, we have Blazers with all of the available tech features for you to discover. Whether you want top-quality navigation or access to the best apps, the Blazer delivers!
The available connected navigation is displayed on a touch screen and available via voice or touch screen access. You can enter an address into the navigation in your Chevrolet Blazer or choose a point of interest that you want to explore. You will notice real-time alerts for traffic with the navigation in the Blazer!
Your Chevrolet Blazer will have access to compatible apps via Android Auto or Apple CarPlay. You will also have access to businesses that partner with Chevrolet through the Marketplace. The Blazer also features Amazon Alexa, which will keep you connected to all of your Amazon account features!