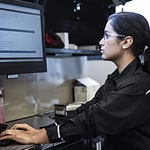 Recalls are a fact of life. Luckily, they're not as bad as they sound. Plus, recalls occasionally result in the repurchase of your vehicle or free upgrades and repairs. Our Dow Autoplex put together this blurb about recalls to help you locate them and deal with them effectively.
Safety First: Recalls 101
Manufacturers and the National Highway Traffic Safety Administration are responsible for issuing recalls. They do this after discovering that your car seats, tires, motor vehicle equipment or your vehicle don't meet stringent safety standards. Recalls come with interim safety guidance and info on what to do next. In the event of a recall, call us at Dow Autoplex so we can begin helping and supporting you at once.
How to Find Out About Recalls
Locate and record your Vehicle Identification Number. It might be on the dash, the inside of the driver side door or even on the engine block, depending on your vehicle. Enter your VIN at the NHTSA website for up-to-date recalls. You may also enter your VIN on the Safercar website or in the Safercar mobile app for iOS and Android. When you keep your vehicle registration current, the manufacturer notifies you or your related distribution chain as soon as recalls arise.