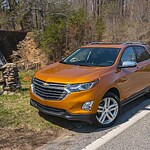 The Chevrolet Equinox is a mid-sized SUV that offers safety features like rear parking assist, lane departure warning, and blind-spot alert. This post will cover what these three systems do, how they work, and what benefits you can get from them.

Rear Parking Assist

This system helps you when parking by sending an audible signal and displaying a visual warning on the instrument panel if it detects an obstacle while you are reversing. The signals get more insistent as you get closer to the obstacle, providing you with time to stop before hitting it. It is available in SE, LTZ, and Premier trims.

Lane Departure Warning

This system uses a camera vision to monitor lane markings and will warn you audibly if it senses your vehicle is crossing lane markings without using your turn signals. It is available in SE and LTZ trims.

Blind Spot Alert (SLT and Premier Only)

This is a warning system that senses when another vehicle is in your blind spot and warns you audibly. It also displays the location of the other vehicle on your display screen (in the outside mirror). This is not available with rear parking assist or lane departure warning.