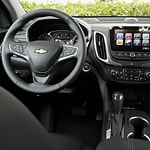 The Chevrolet Equinox is an SUV that packs a punch. It has performance features like fuel efficiency, handling, and more! The vehicle will even be able to handle off-road terrain with ease. So if you're looking for the perfect family car or just want to go on some adventures in your spare time, this is definitely the car for you.
The 2021 Chevrolet Equinox has a very powerful engine, this model of the vehicle is able to deliver up to 348 horsepower. Continuously Variable Valve Timing and an aluminum block that was designed to absorb more vibration than ever before allow for easy handling as well as performance. The design of the engines allows for incredible power as well as full efficiency. This allows you to have even better acceleration, dynamic performance, and more efficiency on the roads.
The new Equinox also features Fuel Smart technology that allows for direct injection as well as higher compression ratios, which allow the engine to function with less fuel than ever before.